COMPRESSION SOCKS FOR AIR TRAVEL
We've all been on long red-eye plane trips where you didn't get to move around and arrived at your destination with swollen feet after a flight. Luckily, there's a simple change you can make that could make a huge difference: compression socks! They are designed to improve blood flow and reduce swelling. These socks may be the one thing you need so you can embark on your next vacation and get off the flight ready to go anywhere.
Short Socks for Small Hops
When you're crammed into coach, your blood flow can slow down even on a short flight, leading to swelling and pain. You may not have to tolerate it for very long, but why should you have to deal with it at all?
The next time you take one of those short trips, consider wearing Tommie Copper® ankle compression socks for air travel. Providing light compression with ultra-breathable fabric, our ankle socks are comfortable enough to wear for the entire flight, on your trip to and from the airport, and even for an entire day! But don't mistake that for weakness — they'll still keep your blood moving as long as you're wearing them to help you achieve the best of both worlds.
Keep Steady on the Plane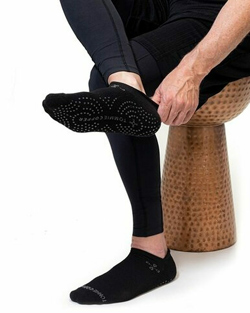 There are many prevention tactics to avoid getting swollen feet after a flight. One of them is that you get up and walk the length of the cabin at least once an hour if you can. We think that's a good idea, but that it would be even better to combine that and compression socks for air travel!
Our gripper socks add small rubber knobs to the soles of your feet. Move around the cabin with confidence that your step will be stable. They'll hold on to the floor while pushing your blood up towards your heart.
Long Socks for Long Hauls
If your flight is four hours or more and you can't move around, that's when circulation can be a pain — literally. These are trips where it helps to have heavier compression socks for air travel that offer extended reach, like our over-the-calf socks.
With greater area for pressure on the ankles and calves, there's more space to encourage blood flow and reduce ankle swelling. They'll also help relieve the stiff lower leg muscles you get from keeping them in one position for hours, all while still being comfortable enough to wear for the whole flight.
Stocking Up for the Frequent Flyer
No one understands the pain of swollen feet after a flight quite like a frequent flyer. The occasional trip is one thing, but keeping your body cramped and stationary when you travel multiple times a month is a whole other beast. Frequent flyers can benefit from getting a multipack of high-performance compression socks for air travel. A multipack allows you to fly more frequently with fewer laundry concerns.
Air travel is often the fastest, and sometimes the only, way to get from Point A to Point B. Don't let yourself get held back by the occasional downsides that come with it. Get the right pair of compression socks for air travel and sail the skies in complete comfort!